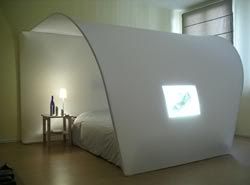 Celeste, designed by Kris Van den Berghe, is a sky (or canopy) detached from the bed which is designed especially to be placed over any type of bed. What makes Celeste unique is the extra feature to project tv, films, Playstation or laptop onto the sky with a lcd of dlp beamer that is placed at the back. Without a beamer Celeste creates a very cozy environment and gives a modern and fresh touch to the interior. The advantage of Celeste is that the customer dosen't have to buy a new bed and/or added material to switch over to a "sky" bed.

Celeste is covered with a white extendable fabric which can be dismantled and washed at 60 degrees fahrenheit. The frame is easy to build up-a bit like a party tent- and ensures a good stability.

Creneau International Gallery: Rue Blaes 96B, 1000 Brussels. Tel.00-32- 2/ 289.70.00.